Please Donate To Bitcoin Address: [[address]]
Donation of [[value]] BTC Received. Thank You.
[[error]]
- Status: Moqui Framework 1.3.2 and Mantle Business Artifacts 0.5.0
Moqui Framework version 1.3.2, a minor new feature and quality improvement release, is now available. For more information see the Moqui Framework page.
Mantle Business Artifacts version 0.5.0 includes data model and services for procure to pay, order to cash, and work plan to cash processes, and data model for much more. For more information see the Mantle Business Artifacts page.
If you would like to help move things along faster, please Donate or contact David E. Jones to sponsor specific features.
- Introduction: What is Moqui?
Moqui is a set of free software projects for building custom and enterprise applications. It is the best platform available for a wide variety of business and internet applications.
More flexible and secure than hosted framework PAAS solutions like Force.com while easy to host on-premise or in the cloud, even on Java IAAS and PAAS vendors like AWS Elastic Beanstalk, Cloudbees, Cloud Foundry, Heroku, etc.
Easier to work with than popular frameworks such Rails/Grails, and takes care of more for you automatically and through simple configuration.
Efficient tools and consolidated files make small apps easy and fast to build.
A true 3-tier architecture and service-oriented design maintain clean structure even for very large applications.
You control your data, and with a comprehensive universal data model (Mantle UDM) it is easy to find your data and have a place to put everything you need.
Is your current platform not flexible enough? Is development progressing too slowly? Does your data lack structure? Are you finding it necessary to build things that seem really generic? Are you having issues with scalability or difficult deployment? Are your hosting options limited? Are you suffering from platform lock-in (especially with a PAAS solution)? Do you need more granular application-aware security?
If any of these apply, Moqui Framework and Mantle Business Artifacts are for you.
Moqui Framework: facilitate efficient and flexible application building
Mantle Business Artifacts: universal business artifacts to make your applications easier to build and implicitly integrated with other apps built on Mantle; it includes:

Universal Data Model (UDM)
Universal Service Library (USL)
Universal Business Process Library (UBPL)

Moqui Crust: add-on themes, tool integrations, applications, etc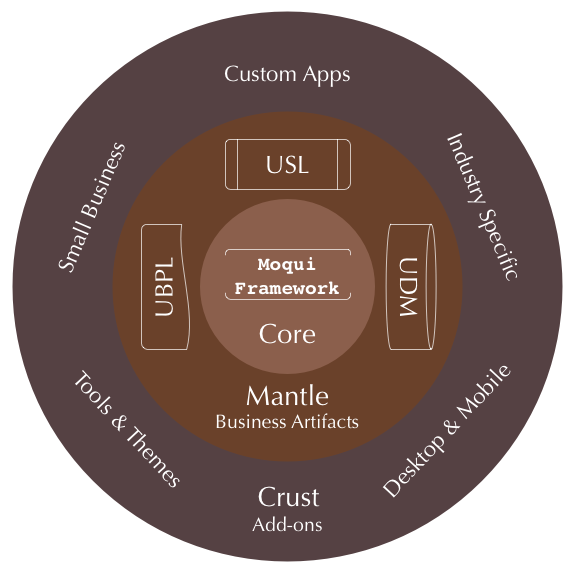 - Model: License? Resources?
License
Moqui is (real) free software.
In open source terminology it is both free as in beer (gratis) and free as in liberty (libre). The free as in liberty part for Moqui means real liberty. It does not mean the pages of cumbersome restrictions and threats of legal action that has passed for liberty in the open source movement. It means no restrictions and no obligations and no protection of monopoly enforced by collaboration with any government. It means that the ubiquitous disclaimer of liability is accompanied by a similar disclaimer of copyrights.
Moqui is in the public domain.
Resources and Management
To maintain a high level of quality and provide for long-term sustainable maintenance Moqui is operated using a professionally moderated code base model. This model is based on free-market principles and takes in account the motivations and needs of all parties involved:
user: any user of the software (developer, end-user, etc)
sponsor: anyone who backs new features and changes to the software
contributor: developer who contributes code and then hires (and collaborates with) a moderator to make it part of the project
moderator: developer with commit access to the official code repository and who personally works on the design and development and maintenance of the software (intentionally very small group)
No changes go into the official code repository without detailed personal review by one of the moderators. It is common for users of software to want certain things to be different, or new things to be added. Under this model the normal way to get this done is to pay a moderator to either implement the desired changes, or review a patch from the contributor, make revisions as needed and possibly commit the changes.
Under this model:
users get a piece of software that is well thought out and thoroughly reviewed
users save time wasted by meaningless changes causing them problems
users don't have to worry about bad changes being committed without thorough review
users can count on a framework that will be around for a long time
contributors don't wait endlessly for feedback or worry about contributions being ignored
contributors can count on detailed feedback and, as needed, discussion and collaboration to get the best possible change committed, or a good explanation of why it won't be
sponsors enjoy fast response times to requests for new features or other changes
the software stays aligned with the design goals
the software does not suffer from decay over many years of life as random people scratch random itches or commit for convenience based on obtuse requirements from clients
For contribution moderation please contact David E. Jones