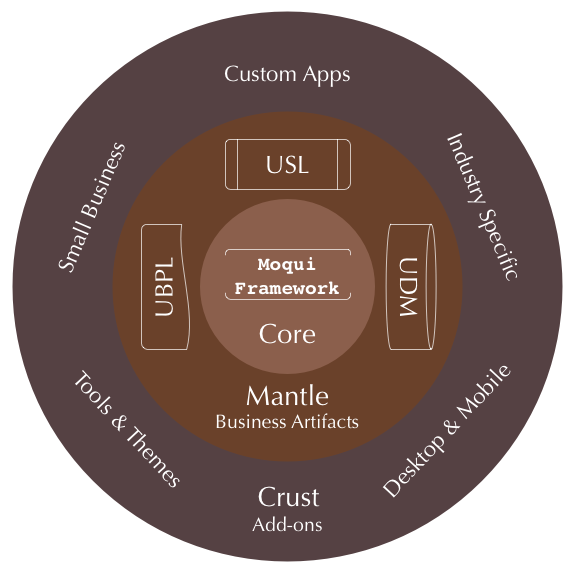 - Introduction: What is Moqui?
Moqui Ecosystem is a set of free and open source (CC0 Licensed) software projects for building enterprise automation applications such as eCommerce, ERP, CRM, SCM, MRP, EAM, POS, etc.
Moqui Framework: Synergistic tools for efficient and flexible application building
Mantle Business Artifacts: Universal business artifacts (data model, services, document templates, etc) to make your applications easier to build and implicitly integrated with other apps built on Moqui and Mantle
Moqui Crust: Add-on themes, tool integrations, applications, etc

Various third party applications are being developed, more coming soon!
While useful for developing a wide variety of applications the primary audiences for these projects are developers, architects, designers, and analysts in:
Organizations needing custom software, from existing system augmentation to complete end-to-end systems
Commercial software vendors looking for a reliable and flexible foundation to allow them to focus on differentiating features
Open source projects who need to maximize the results of development time
Custom software consulting and system integration who need the tools to efficiently build anything a client might want
To interact with the Moqui community use:
- Latest Updates: Moqui 1.5.3, Mantle 1.1.0, HiveMind 1.1.2, POP Commerce 1.0.0, Making Apps with Moqui 1.0
Moqui Framework
Moqui version 1.5.3, a minor new feature and bug fix release, is now available.
Moqui Framework is a framework for building enterprise applications based on Java. It includes tools for databases (relational, graph, document), local and web services, web and other UI with screens and forms, security, file/resource access, scripts, templates, l10n, caching, logging, search, rules, workflow, multi-tenancy, and integration.
For more information see the Moqui Framework page.
Mantle Business Artifacts
Mantle version 1.1.0, a minor new feature and bug fix release, is now available.
Mantle Business Artifacts is a business application foundation built on Moqui Framework and includes a Universal Data Model (UDM) and Universal Service Library (USL) for building eCommerce, ERP, CRM, MRP, SCM, EAM, POS, etc applications.
For more information see the Mantle Business Artifacts page.
HiveMind Project Management and Service ERP
HiveMind version 1.1.2, a minor new feature and bug fix release, is now available.
HiveMind is a comprehensive ERP application for service organizations. It includes a project management application featuring project/task, request, and content (wiki) management. There is support for multiple vendors, multiple clients, flexible billing rates, time recording, expenses, invoicing (AR/AP), payments, and general ledger.
For more information see the HiveMind project on GitHub.
POP Commerce Retail and Wholesale ERP and eCommerce
POP Commerce 1.0.0, the initial release, is now available.
POP Commerce is an eCommerce and ERP application suite for retail and wholesale organizations.
For more information see the POP Commerce project on GitHub.
Making Apps with Moqui
Making Apps with Moqui is a book with comprehensive documentation for Moqui Framework and a summary of Mantle Business Artifacts. Download it for free: Making Apps with Moqui (PDF).
Making Apps with Moqui is also available in print on Amazon.com.
Thanks to Eric Chang, Making Apps with Moqui is also available in Chinese. 灰常感谢 Eric Chang(张振宇) 童鞋的贡献,Moqui应用开发指南(中文版) 新鲜出炉了
- Model: License? Resources?
License
Moqui is (real) free software.
In open source terminology it is both free as in beer (gratis) and free as in liberty (libre). The free as in liberty part for Moqui means real liberty. It does not mean the pages of cumbersome restrictions and hints of legal action that are so common in open source licenses. It means you have no restrictions and no obligations. It means that the ubiquitous disclaimer of liability is accompanied by a similar disclaimer of copyrights.
Moqui is in the public domain.
To firmly establish this and to clarify terms in jurisdictions where public domain status is not recognized, Moqui uses the Creative Commons CC0 1.0 Universal Public Domain Dedication.
Resources and Management
To maintain a high level of quality and provide for long-term sustainable maintenance Moqui is operated using a professionally moderated code base model. This model is based on free-market principles and takes in account the motivations and needs of all parties involved:
user: any user of the software (developer, end-user, etc)
sponsor: anyone who backs new features and changes to the software
contributor: developer who contributes code and then hires (and collaborates with) a moderator to make it part of the project
moderator: developer with commit access to the official code repository and who personally works on the design and development and maintenance of the software (intentionally very small group)
No changes go into the official code repository without detailed personal review by one of the moderators. It is common for users of software to want certain things to be different, or new things to be added. Under this model the normal way to get this done is to work with a moderator to either implement the desired changes, or review a patch from the contributor, make revisions as needed, and then commit the changes.
Under this model:
users get a piece of software that is well thought out and thoroughly reviewed
users save time wasted by meaningless changes causing them problems
users don't have to worry about bad changes being committed without thorough review
users can count on software that will be around for a long time
contributors don't wait endlessly for feedback or worry about contributions being ignored
contributors can count on detailed feedback and, as needed, discussion and collaboration to get the best possible change committed, or a good explanation of why it won't be
sponsors enjoy fast response times to requests for new features or other changes
the software stays aligned with design goals
the software does not suffer from decay over many years of life as random people scratch random itches or commit for convenience based on requirements for particular projects
Please Donate To Bitcoin Address: [[address]]
Donation of [[value]] BTC Received. Thank You.
[[error]]